Julie Ann Wrigley has dedicated her lifetime to making meaningful contributions toward sustainability solutions for a complex world so that all of Earth's inhabitants may thrive. Through the Julie A. Wrigley Foundation, Wrigley has invested more than $50 million in the university to pursue topics and solutions for our global futures. Without these contributions, ASU would not have been able to become a leader in sustainability to the extent it is today. The Julie Ann Wrigley Global Futures Laboratory is home to hundreds of experts and partners from around the world forging paths to a more resilient, more harmonious, more equitable future, and it's training the next generation of leaders passionate about making positive impacts on complex environmental and human systems.
In 2004, Wrigley made a gift to establish the Global Institute of Sustainability at Arizona State University, an institution dedicated to a field that was virtually unknown before Wrigley's gift. In recognition of her transformative investments – now totaling $50 million – the university renamed its sustainability institute in her honor. Now, ASU has elevated that naming to the Julie Ann Wrigley Global Futures Laboratory – the evolution of ASU's commitment that we can and must make a meaningful contribution to ensuring a habitable planet and a future in which well-being is attainable.
"I recognize the need to continuously engage to stay ahead of the game," Wrigley says. "We need to continue to think outside the box. No one is in a position to start getting comfortable with the old."
The Julie Ann Wrigley Global Futures Laboratory is the hub of ASU's sustainability and global complexity initiatives, advancing research, education and business practices for an urbanizing world. Its College of Global Futures offers transdisciplinary degree programs to create practical solutions for social, economic and environmental challenges.
"When President Crow and I started working together, we both recognized that my commitment was about not only an investment of dollars but, more importantly, an investment of time and passion," Wrigley says. "I encourage others to also dedicate their time and experiences, so we can all work together to create a thriving world."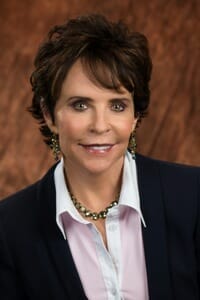 Wrigley's investment in our global future