Meet the 2019 awardees
UN region: Africa
Christelle Kwizera
Founder, Water Access Rwanda
Rwanda
Christelle Kwizera, 25, is a Rwandan mechanical engineer and social entrepreneur. In 2014, Christelle founded Water Access Rwanda, an award-winning innovative social enterprise offering tailor-made solutions in the field of collection, distribution and purification of water. The enterprise has provided water to over 100,000 Rwandans through a network of 95 boreholes and INUMA™️ purified clean water microgrids. Water Access Rwanda was the only Rwandan enterprise to ever be awarded with the prestigious Africa Entrepreneurship Award. Her work in water and geophysics has also seen her train and support the development of social water businesses across the African continent with Water4. Christelle was also recognized as the Woman Entrepreneur of the Year this March in Paris by INCO with support from the Chanel Foundation.
With her strong academic background and deep commitment to environmental, youth and gender issues, Christelle has managed to get the attention of development leaders and enablers who have awarded her with fellowships and awards for her various initiatives and volunteering efforts. In her home district, she was elected to be the economic commission head in the Joint Action Development Forum. Christelle is a regular speaker and activist on the national and international stage, and is involved at a high-level in keeping leaders accountable to their people, especially in promoting youth initiatives. A faithful steward, Christelle lives to see her God-given gifts multiplied through service.
Kwizera's business supports the following SDGs:
Goal 6: Clean water and sanitation
Goal 8: Decent Work and Economic growth
Goal 13: Climate action
UN region: Asia-Pacific
Lina Khalifeh
Founder and Owner, SheFighter
Jordan
Lina Khalifeh is the founder and owner of SheFighter, the first self-defense studio for women only, started in the Middle East and expanded to more than 35 countries. SheFighter is designed to empower women physically, mentally and emotionally through self-defense training. SheFighter has been working to achieve gender equality through spreading awareness among students in schools and focusing on building their physical intelligence through sports, martial arts and self-defense. Founded in 2012, the studio has trained more than 18,000 women all over the globe.
Additionally, Lina has worked in her family's business in Jordan for four years as a marketing manager in manufacturing products in the educational field (white boards, black boards, electronic boards, etc.) and marketing those products internationally.
Lina was recognized by President Barack Obama during his speech at the White House in 2015 and was awarded the Economic Empowerment Leadership Award by Hillary Clinton and Vital Voices in Washington, D.C., in 2018. Lina has also been awarded the ESPYS Stuart Scott Humanitarian ENSPIRE award presented by ESPN and UFC in Los Angeles, California, in 2019 and spoke at the 2019 World Economic Forum in Davos.
Khalifeh's business supports the following SDGs:
Goal 3: Good Health and Well-being
Goal 5: Gender Equality
Goal 17: Partnerships to achieve the Goal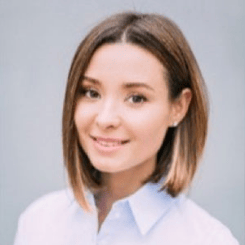 UN region: Eastern Europe
Zoya Lytvyn
Novopecherska K12 Private School and Osvitoria (NGO)
Ukraine
In 2014 Zoya founded Novopecherska School – a K12 school for 500 kids that became not only place of happiness and modern education for its students, but also a pilot and example for reform of education in Ukraine. The school has its own unique curriculum, combining national standards with international cutting-edge teaching techniques. Experts from countries including Canada, the Netherlands and Great Britain were engaged to create Novopecherska's educational model that promotes the individual capacity for each child and prepares them for the turbulent and challenging, but also exciting world of tomorrow. In 2015, Novopecherska School entered the list of 100 most innovative schools in the world according to international rating Microsoft Showcase Schools. Novopecherska School is also a great example of public-private partnership when in 2016, upon request by the Ministry of Education in Ukraine, it became a pilot for national educational reform called The New Ukrainian School.
All the operational profit from the Novopecherska School is reinvested into Osvitoria NGO – a non-profit public organization promoting the development and reform of education in Ukraine founded by Zoya in 2013. The aim of the organization is to offer and create learning opportunities for children to the highest standard and to merge the best of Ukrainian teaching with modern international educational techniques and innovations. Osvitoria NGO works with orphanages to ensure that the deprived children have access to quality education and a chance for a successful future. They launched two countrywide projects: iLearn, an online platform that helps to prepare for EIT (External Independent Testing) examinations for admission to universities in Ukraine for free, and the First Profession project, a program for orphans to help them to find their own way in life and employment in the future. First Profession project is supported by leading national and international companies, like Coca-Cola Beverages, Winner Automotive and International Women's Club of Kyiv. Zoya's other education projects include an online media training center, which trains and develops teachers from all over the country for free, and she has also launched the Global Teacher Prize award in Ukraine to enhance the prestige of the teaching profession in her country.
Lytvyn's business supports the following SDGs:
Goal 4: Quality Education
Goal 10: Reduced Inequality
Goal 17: Partnerships to achieve the Goal
UN region: Latin America and the Caribbean
Karla Ruiz Cofiño
Founder, The Digital Awareness Program
Guatemala
Karla is a digital strategist and social media specialist, entrepreneur, speaker, social activist and woman advocate. Worried to see the gap between the common use of social media and real world needs, Karla developed her own curriculum called the Digital Awareness Program with an innovative methodology on how to use digital media towards positive impact. She equips people with the digital skills and knowledge they need to become active contributors to online communities, teaching them how to behave as positive digital citizens harnessing the power of social media and digital strategies for bettering the world. For the last 15 years, Karla has studied the impact technology has on the evolution of human beings, how this has affected the way we relate with each other and our behavior as consumers. She has become an expert at leveraging digital technology to advance a company's brand, revenue and bottom line, but she thinks that having a digital presence is about much more than just business. She is dedicated to help leaders understand how to use technology to connect with the world and use their influence to improve it. She is on a mission to recruit, inspire and empower people to become digitally aware, creating a future of interconnected global citizens. She envisions a community of change makers connected through technology improving the world.
Karla is also the co-founder of the digital agency MILKnCOOKIES and is a social media consultant for the Global Ambassadors Program of Vital Voices and Bank of America. She is the founding curator of the World Economic Forum Global Shapers Guatemala and founder of the Women Entrepreneurs Community – Women's Entrepreneurship Day Guatemala.
Because of her innovative work using social media for good, Karla has received numerous honors and awards including Woman of the Year 2018 by INTECAP; was chosen as one of the five women around the world to receive the Vital Voices Global Leadership Award in 2015; was recognized as one of the 10 Innovators in Latin America 2014 by the Inter-American Development Bank; was recognized as Visionary of the Year 2014 by the leading Guatemalan brand Saúl E. Mendez; was awarded as Outstanding Professor of the Year in 2014 by Universidad del Itsmo in Guatemala and was declared Woman of the Year 2013 by Look Magazine. Additionally, Karla was invited on behalf of President Obama and the White House to be a speaker at the 2016 Global Entrepreneurship Summit at Stanford University; was invited by the Aspen Institute to be part of the Central America Leadership Initiative 2016 and was invited as a speaker for TEDx Guatemala and Costa Rica. Her company MILKnCOOKIES was declared one of the eight WSIS + 10 Global Champions by the World Summit Award in UNESCO and was awarded as one of the top 5 leaders in E-Entertainment by the World Summit Award, both for "building knowledge societies for peace and sustainable development." For Karla, her most important achievement is her relationship with her husband Alex with whom she has two beautiful boys.
Cofiño's business supports the following SDGs:
Goal 5: Gender Equality
Goal 12: Responsible Consumption and Production
Goal 16: Peace, Justice and Strong Institutions
Meet the 25 Finalists in 2019