Arizona State University
Ira A. Fulton Schools of Engineering
School for Engineering of Matter, Transport and Energy
Postdoctoral Researcher – Direct Air Capture process design
Location: Arizona State University – Tempe Campus
The Center for Negative Carbon Emissions (CNCE; https://globalfutures.asu.edu/cnce/) at Arizona State University (ASU) is seeking a highly skilled and motivated postdoctoral researcher to assist CNCE researchers in developing cutting edge technologies that capture carbon dioxide (CO2) directly from air, converting CO2 into fuels and products, or sequestering it forever.
This position will work with an interdisciplinary team of physicists and engineers, with funding from the Department of Energy to perform a front-end engineering design (FEED) study that will convert CO2 captured from air to methanol (Fig. 1).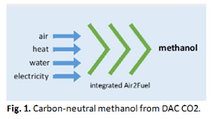 Specifically, the postdoctoral researcher will be responsible for the conceptual design and optimization for a process that converts CO2 from direct air capture (DAC) into methanol. This effort will advance a novel system concept for using pre-commercial technologies to lower costs of and simplify production of carbon–neutral methanol. This project consolidates operations by combining crude CO2 cleanup, hydrogen production, and partial CO2 reduction steps using heat and electricity. This sustainable green methanol production process will address various knowledge gaps as well as provide an opportunity for assessment of its technical performance, community impact, technoeconomic viability, and life cycle analysis.
The primary job duties will include:
Design and optimization of an integrated DAC process containing a thermo/electrocatalytic process to convert H2O to hydrogen (H2) as well as thermo/electrocatalytic conversion of H2 and CO2 to methanol
Data analysis & visualization and teamwork
This initial appointment is for one year, with the possibility of renewal contingent upon job performance and availability of funding. The salary range is from $60k–$75k and depends on prior experience.
Qualifications
Required Qualifications
Doctoral degree in chemical engineering, or a related field with process design experience
Ability to set and manage priorities, work independently in a self-directed manner as well as collaboratively in interdisciplinary scientific teams
Desired Qualifications
Excellent written, verbal, and visual communication skills
Experience with MS Office tools for data analysis and visualization
Experience in virtual process design and optimization of energy or carbon capture systems
Application Instructions and Inquiries
Applications must be submitted via Interfolio at https://hiring.engineering.asu.edu and select "apply now" next to the corresponding position. Candidates will be asked to create or use an existing Interfolio Dossier to submit the following:
Cover letter (up to 2 pages) describing your relevant experience and motivation for this position
Curriculum vitae
*The ASU Charter states, "ASU is a comprehensive public research university, measured not by whom it excludes, but by whom it includes and how they succeed; advancing research and discovery of public value; and assuming fundamental responsibility for the economic, social, cultural and overall health of the communities it serves." The Fulton Schools of Engineering are dedicated to continuous innovation, student success, faculty excellence, and cultivation of an environment that is diverse, equitable, inclusive and promotes belonging. The diversity statement provides applicants an opportunity to demonstrate their past and current activities in promoting diversity, equity, and inclusion and how future activities will align with upholding the ASU Charter.
Initial review of applications will begin immediately and continue every week thereafter until the position is filled. Inquiries about the position should be directed to Professor Matthew Green at mdgreen8@asu.edu with a copy to Cecilia Alcantar at calcant9@asu.edu.
About Arizona State University
ASU is a large, comprehensive, research university and for nearly two decades, has transformed into the "New American University," one dedicated to the simultaneous pursuit of excellence, broad access to quality education, and meaningful societal impact. Through its Charter and Design Aspirations, the institution centers inclusion and access as values that drive the enterprise; adopts inter- and transdisciplinary approaches to teaching and learning as ways to address society's greatest challenges; and develops innovative partnerships to produce master learners across the lifespan. To learn more about ASU, visit https://www.asu.edu.
A background check is required for employment. Arizona State University is a VEVRAA Federal Contractor and an Equal Opportunity/Affirmative Action Employer. All qualified applicants will receive consideration for employment without regard to race, color, religion, sex, sexual orientation, gender identity, national origin, disability, protected veteran status, or any other basis protected by law. (See https://www.asu.edu/aad/manuals/acd/acd401.html and https://www.asu.edu/titleIX/).
In compliance with federal law, ASU prepares an annual report on campus security and fire safety programs and resources, which is available online at https://www.asu.edu/police/PDFs/ASU-Clery-Report.pdf. You may request a hard copy of the report by contacting the ASU Police Department at 480-965-3456.